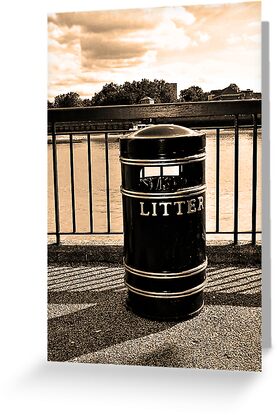 This was taken in Wapping in the London borough of Tower Hamlets. The river Thames is in the background and one of Tower Hamlet's many litter bins is in the foreground.
I took this and completed the editing of this picture a few months back; but I've only just uploaded it for sale as I came up with a few versions of this picture. It was difficult deciding which one to upload.
I finally decided on this picture but I will upload the other versions to this blog in due course for your comments and reviews. I haven't as yet decided to sell the others, but may decide after getting your viewpoints.
Stay tuned.
Unfortunately, due to the low pixel size of this image, I can only sell this picture as a
greeting card
,
a postcard
, or a
matted print
.
Check it out here.
Until next time...