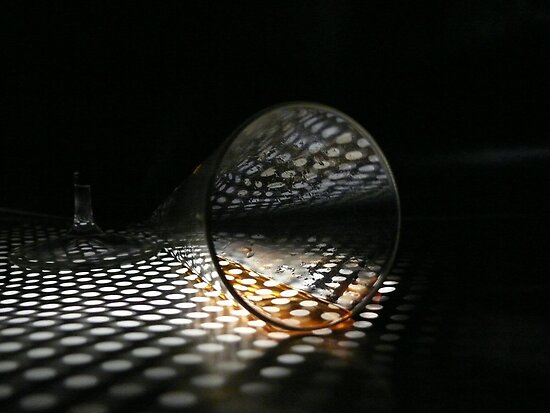 We're back to featuring more outstanding artwork from talented artists!
I've been meaning to feature this piece for a couple of days now.
"Leftover wine"
was created by
Sentimentum
, a fellow redbubble artist.
She has a number of stunning pieces in her redbubble portfolio, but this one immediatly attracted my attention. Was it the subtle light? the dark backround? the reddish colour of the sherry... the reflections in the glass? or the fact that it is broken?
I would say, all of this..... and proves to me that simple things work. The whole piece conveys an atmosphere of subtle tragedy. And I really love the blend of colour in this work.
Our eyes are very quickly drawn to the "leftover" sherry in the glass due to it being the only dash of colour in the picture.
I could see this picture hanging as a canvas on a white or light wall.
Please click through
to view her work on redbubble and to see what others think of the piece.
Leftover wine can be purchased as a
Greeting card / postcard
,
Photographic print
,
Matted
,
Canvas
,
Frame
or a poster
. If you love her work, please support her by viewing her redbubble portfolio.
Sentimentum's other sites and links can be found bellow:
>
Personal website
>
Bubble site
>
Books
>
Interviews with Sentimentum
>
Facebook
Permission to share
"Leftover wine"
was kindly given by
Sentimentum
. All rights reserved by the artist.
Related Posts
>
Other Guest artist's artwork in this blog
>
Photography