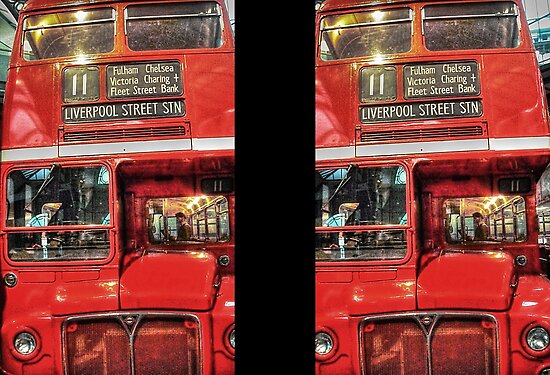 As I'm sure that i've mentioned many times by now, I'm really interested in History and transportation,
and
I live in London. So it really shouldn't be any surprise to any of my readers why I decided to feature
'the Number 11.'
The Number 11 bus route
in London was one of the routes to withdraw the popular iconic London Routemaster bus from regular passenger service, the last operating day for these buses being October 31st, 2003. The rest of the fleet were withdrawn in 2005.
Now, save for two heritage routes in Central London (
The Number nine
and
Number 15
), the entire fleet of
routemasters
were replaced by modern buses (in my opinion, there's really nothing special about the modern replacements except for the
bendy buses
....... they're just all the same with no spark!).
This particular routemaster bus is even more special than the others as it hasn't been refurbished with the rest back in 1990 (that's a story for another post -- stay tuned!).
The 1990 refurbishment was of the interior, leaving the outside exactly the same as when the fleet was launched in the 1960's.
This was rendered in HDR tone-mapping using photomatix, 3 exposures from a single jpeg file and post-processed using GIMP.
I lowered the saturation a little to make it a little more realistic after the HDR treatment while preserving the details and reflections of a tone-mapped image (as best I could!).
Afterwards, I sharpened the image to further increase the details and lines of the image.
Let me know what you think of the routemaster!........
By the way, If you liked this short summary about the routemaster in London, you'll love reading my other blog,
Through the eyes of a Londoner!
where I discuss the City and the things inside it in greater detail!
Until next time...
"The Number 11" is copyrighted Richard Ray..... all rights reserved.
Related Posts
>
Other artwork created by me
>
More London artwork
>
More HDR artwork in this blog